Zoku Owarimonogatari (続・終物語) is the 10th Monogatari Series anime adaptation from Studio Shaft. It is slated to premiere with screenings in Japanese theaters on November 10th 2018, with a TV release presumably coming soon after.
Plot
See also: Zoku Owarimonogatari#Plot
Episode List
Music
Trivia
Zoku Owarimonogatari has marked the longest time gap between anime adaptation releases since Nisemonogatari. The finale of Bakemonogatari to the premiere of Nisemonogatari was about 18 months. The finale of Owarimonogatari to the premiere of Zoku Owarimonogatari will be about 15 months. Most other gaps have been within less than a year.
Gallery
Trailers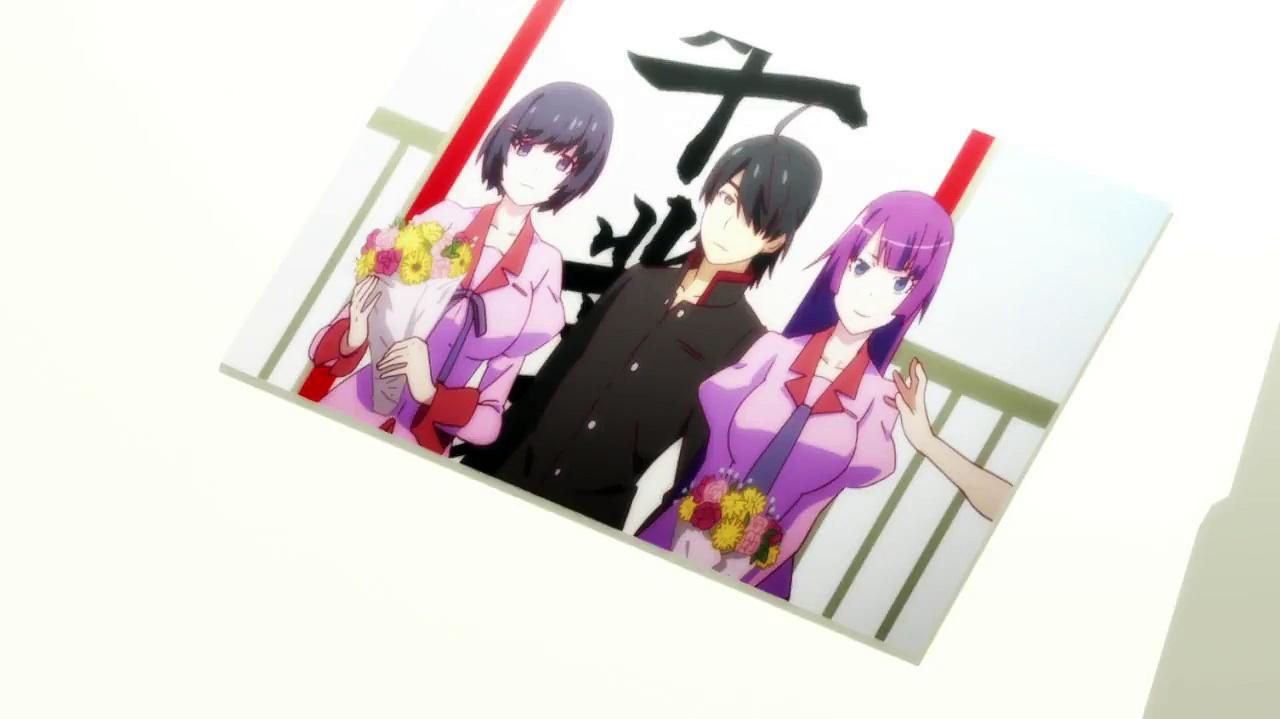 External Links
Bakemonogatari

1. Hitagi Crab, Part 1 • 2. Hitagi Crab, Part 2 • 3. Mayoi Snail, Part 1 • 4. Mayoi Snail, Part 2 • 5. Mayoi Snail, Part 3 • 6. Suruga Monkey, Part 1 • 7. Suruga Monkey, Part 2 • 8. Suruga Monkey, Part 3 • 9. Nadeko Snake, Part 1 • 10. Nadeko Snake, Part 2 • 11. Tsubasa Cat, Part 1 • 12. Tsubasa Cat, Part 2 • 13. Tsubasa Cat, Part 3 • 14. Tsubasa Cat, Part 4 • 15. Tsubasa Cat, Part 5

Nisemonogatari

1. Karen Bee, Part 1 • 2. Karen Bee, Part 2 • 3. Karen Bee, Part 3 • 4. Karen Bee, Part 4 • 5. Karen Bee, Part 5 • 6. Karen Bee, Part 6 • 7. Karen Bee, Part 7 • 8. Tsukihi Phoenix, Part 1 • 9. Tsukihi Phoenix, Part 2 • 10. Tsukihi Phoenix, Part 3 • 11. Tsukihi Phoenix, Part 4

Nekomonogatari (Black)

1. Tsubasa Family, Part 1 • 2. Tsubasa Family, Part 2 • 3. Tsubasa Family, Part 3 • 4. Tsubasa Family, Part 4

Monogatari Series Second Season

1. Tsubasa Tiger, Part 1 • 2. Tsubasa Tiger, Part 2 • 3. Tsubasa Tiger, Part 3 • 4. Tsubasa Tiger, Part 4 • 5. Tsubasa Tiger, Part 5 • 6. Summary One • 7. Mayoi Jiangshi, Part 1 • 8. Mayoi Jiangshi, Part 2 • 9. Mayoi Jiangshi, Part 3 • 10. Mayoi Jiangshi, Part 4 • 11. Summary Two • 12. Nadeko Medusa, Part 1 • 13. Nadeko Medusa, Part 2 • 14. Nadeko Medusa, Part 3 • 15. Nadeko Medusa, Part 4 • 16. Summary Three • 17. Shinobu Time, Part 1 • 18. Shinobu Time, Part 2 • 19. Shinobu Time, Part 3 • 20. Shinobu Time, Part 4 • 21. Hitagi End, Part 1 • 22. Hitagi End, Part 2 • 23. Hitagi End, Part 3 • 24. Hitagi End, Part 4 • 25. Hitagi End, Part 5 • 26. Hitagi End, Part 6

Hanamonogatari

1. Suruga Devil, Part 1 • 2. Suruga Devil, Part 2 • 3. Suruga Devil, Part 3 • 4. Suruga Devil, Part 4 • 5. Suruga Devil, Part 5

Tsukimonogatari

1. Yotsugi Doll, Part 1 • 2. Yotsugi Doll, Part 2 • 3. Yotsugi Doll, Part 3 • 4. Yotsugi Doll, Part 4

Owarimonogatari

1. & 2. Ougi Formula • 3. Sodachi Riddle, Part 1 • 4. Sodachi Riddle, Part 2 • 5. Sodachi Lost, Part 1 • 6. Sodachi Lost, Part 2 • 7. Sodachi Lost, Part 3 • 8. Shinobu Mail, Part 1 • 9. Shinobu Mail, Part 2 • 10. Shinobu Mail, Part 3 • 11. Shinobu Mail, Part 4 • 12. Shinobu Mail, Part 5 • 13. Shinobu Mail, Part 6

Koyomimonogatari

1. Koyomi Stone • 2. Koyomi Flower • 3. Koyomi Sand • 4. Koyomi Water • 5. Koyomi Wind • 6. Koyomi Tree • 7. Koyomi Tea • 8. Koyomi Mountain • 9. Koyomi Torus • 10. Koyomi Seed • 11. Koyomi Nothing • 12. Koyomi Dead

Kizumonogatari

Part 1. Tekketsu • Part 2. Nekketsu • Part 3. Reiketsu

Owarimonogatari 2

14. Mayoi Hell, Part 1 • 15. Mayoi Hell, Part 2 • 16. Hitagi Rendezvous, Part 1 • 17. Hitagi Rendezvous, Part 2 • 18. Ougi Dark, Part 1 • 19. Ougi Dark, Part 2 • 20. Ougi Dark, Part 3

Zoku Owarimonogatari

1. Koyomi Reverse, Part 1 • 2. Koyomi Reverse, Part 2 • 3. Koyomi Reverse, Part 3 • 4. Koyomi Reverse, Part 4 • 5. Koyomi Reverse, Part 5 • 6. Koyomi Reverse, Part 6