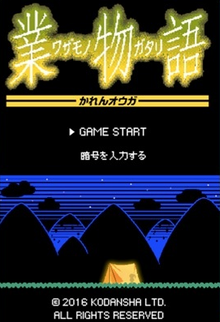 The Wazamonogatari (業物語) game is a free mobile game playable through mobile web browsers. It was made to promote the Wazamonogatari novel. In particular, it seems to promote the Karen Ogre arc as it acts as a subtitle for the game. It was released in January 2016.
It started as a simple interactive website that allowed the player to move a 2D sprite of Karen on screen and jump. Besides hitting a block to change a prefix of a Monogatari Series novel that caused character sprites to appear, three pipes would appear in which the player could go down. One redirected to the Nisio Isin website, the other two redirected to twitter / facebook with pre-made posts for the player to publish encouraging others to check out the game.
The website was later updated into more of an actual game, with dialog scenes and an over world containing different levels. In the game, you collect books which contain excerpts from the novels, do quizzes, fight bears among other things.
Music
The game features 8-bit renditions of many songs featured in the Bakemonogatari Soundtrack.
Gallery
Videos
| | | |
| --- | --- | --- |
| 業物語 特別サイト予告CM | 8bit業物語 瞳島眉美ver. | Wazamonogatari gameplay |
Links