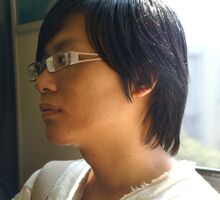 VOFAN, Dai Yuenhon (戴 源亨, Dài Yuánhóng), is a Taiwanese artist mostly known for his unique, border-less art style that uses a lot of bright pastel colors and soft, natural lighting. He is the illustrator for the Monogatari light novels, having drawn every cover in the series along with illustration pages, promotional artwork, and end cards for the TV series.
Most character designs for the series originate from VOFAN, though those not done by him were presumably created by anime series character designer Akio Watanabe.
Affiliation with Monogatari Series
Other Notable Works
Boukyaku Tantei Series (also written by Nisio Isin)
Background
From a young age, VOFAN considered becoming a comic illustrator, but eventually realized he was more suited for single illustrations. He studied architecture in college, but he ultimately wanted to be a professional illustrator and became involved in many works in the field before and after graduating. VOFAN cites Makoto Shinkai, director of Voices of a Distant Star, 5 Centimetres per Second, and Your Name., and his use of lighting as an early inspiration for his art style.[1]
Trivia
VOFAN's artist name is inspired by the robot fighting video game series "Virtual On" and his love for the series, making him a "vo-fan."
While it was previously believed he didn't design the appearances for the male characters in the series since they do not appear in novel artwork, he later corrected on Twitter that he was in fact involved in their design, showing concept art that predated the anime series.[2]
VOFAN has been involved greatly with the English versions of the Monogatari Series, designing brand new covers for most of the releases.
Despite being a professional illustrator, he also holds a particular interest in photography and uploads professional photos to his Flickr account. His interest in real life photography likely explains his depiction of natural lighting in his artwork.
He is appraised as "The Magician of Light from Taiwan" to the Japanese anime community.
Gallery
See Also
References