snowdrop is the third closing theme song for Monogatari Series Second Season, used for episodes 21-26 of the original TV broadcast.
Background
snowdrop was composed by Hidekazu Tanaka, Yuji Hamasaki, and Saku who all three also arranged the song. Yuji Hamasaki, along with meg rock and Luna Haruna wrote the song's lyrics. [1][2]
It is a duet performed by Luna Haruna and Marina Kawano. Two vocalized versions of the song was released in limited and commercial editions. The limited edition however, is the only one containing the duet. Unlike the commercial edition, a solo version by Luna Haruna is available instead. Both versions use the same lyrics.
Lyrics
Original Japanese
Japanese Rōmaji
English Translation
きっとね きりがないこと
全部 叶ったあとも
何度も また よくばって
ひとつ 後悔するんだ
Kitto ne kiri ga nai koto
Zenbu kanatta ato mo
Nando mo mata yokubatte
Hitotsu koukai suru'n da
I'm sure that even after
innumerable wishes have been granted
Still wanting something more,
we will be regretting something
足りない 昨日と
降り積もる 想い
積み重ね 進むよ
Tarinai kinou to
Furitsumoru omoi
Tsumikasane susumu yo
Yesterday that was not enough and
The feelings that are piling up
Collecting it all, I'll more forward
すごく 好きなひとの
すごく 好きなひとに
なれてしまった そんな 奇跡さえ
信じきれてない ぼくらの
Sugoku suki na hito no
Sugoku suki na hito ni
Narete shimatta sonna kiseki sae
Shinjikiretenai bokura no
This miracle where I've become
the most loved person of the person
I love the most
We are still unable to believe it
すごく もどかしくて
すこし 背伸びした 今日を
笑いながら しあわせだと
明日は きっと 呼べるように
Sugoku modokashikute
Sukoshi senobi shita kyou wo
Warai nagara shiawase da to
Ashita wa kitto yoberu you ni
This day which has been so frustrating
and I've been pushing myself to the limit
So that I'll be able to laugh and call it happiness tomorrow
きみが くれた言葉を
何度も 繰り返してみる
かじかむ てのひらに降る
不安を とかすように
Kimi ga kureta kotoba wo
Nando mo kurikaeshite miru
Kajikamu tenohira ni furu
Fuan wo tokasu you ni
I keep repeating to myself,
the words you said to me
So that it melts away
the uneasiness in my freezing hands
近道も 正解もない 真白な未来を
この心で ちゃんと
感じたこと だけ
目印に 進むよ
Chikamichi mo seikai mo nai masshiro na mirai wo
Kono kokoro de chanto
Kanjita koto dake
Mejirushi ni susumu yo
The clear-white future without shortcuts or correct interpretations
With just feeling that in my heart
It becomes a landmark for me to move forward with
すごく 好きなひとの
すごく となりにいる
かけがえのない こんな 奇跡さえ
気付けないでいた ぼくらの
Sugoku suki na hito no
Sugoku tonari ni iru
Kakegae no nai konna kiseki sae
Kitsukenaide ita bokura no
This irreplaceable miracle
where I'm beside the person
that I love the most
We did not even realize it
すごく ありふれてて
すこし 退屈な 今日も
二度と来ない しあわせだと
明日は もっと 思えるかな
Sugoku arifuretete
Sukoshi taikutsu na kyou mo
Nido to konai shiawase da to
Ashita wa motto omoeru kana
Even an extremely common and slightly boring day like today
Is filled with a happiness that feels like it won't happen again
Will be feel like this again tomorrow?
降りしきる 雪に
息をひそめた 世界で
聴こえてるのは
ねぇ ぼくたちの 心の音だけ
Furishikiru yuki ni
Iki wo hisometa sekai de
Kikoeteru no wa
Nee boku-tachi no kokoro no oto dake
In this world that is hiding quietly
in the incessant snow
The only sound that can be heard
Is the sound of our hearts alone
足りない 昨日と
降り積もる 想い
積み重ね 進むよ
Tarinai kinou to
Furitsumoru omoi
Tsumikasane susumu yo
Yesterday that was not enough and
The feelings that are piling up
Collecting it all, I'll more forward
すごく 好きなひとの
すごく 好きなひとに
なれてしまった そんな 奇跡さえ
信じきれてない ぼくらの
Sugoku suki na hito no
Sugoku suki na hito ni
Narete shimatta sonna kiseki sae
Shinjikiretenai bokura no
This miracle where I've become
the most loved person of the person
I love the most
We are still unable to believe it
すごく もどかしくて
すこし 背伸びした 今日を
笑いながら しあわせだと
明日は きっと 呼べるように
Sugoku modokashikute
Sukoshi senobi shita kyou wo
Warai nagara shiawase da to
Ashita wa kitto yoberu you ni
This day which has been so frustrating
and I've been pushing myself to the limit
So that I'll be able to laugh and call it happiness tomorrow
Video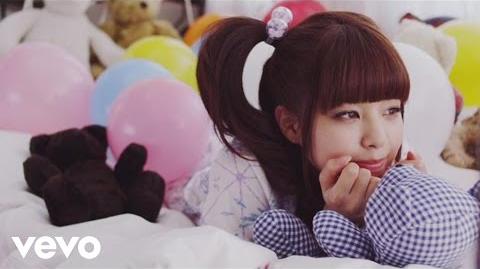 References