Jurassic World: Dominion Dominates Fandom Wikis - The Loop
Play Sound
Nekomonogatari Black (猫物語(黒) Nekomonogatari Kuro) anime is the third Monogatari adaptation from animation studio Shaft. It adapts the first of the two-part Nekomonogatari light novel series, the fourth part of the series as a whole. It is the first stand alone single arc, single book adaptation in the series, meaning it is a short cour that only contains a single arc and a small amount of episodes that released all at once. This format was later used again for the Hanamonogatari and Tsukimonogatari anime adaptations.
It was released on three different locations, which include the video hosting site Nico Nico Douga and Japanese television stations TOKYO MX and BS11, on December 31, 2012 with a total of 4 episodes.
Plot
See also: Nekomonogatari#Plot
Nekomonogatari Black acts as a prequel to Bakemonogatari and a sequel to Kizumonogatari, expanding on the story behind the events in the Tsubasa Cat story in Bakemonogatari.
Episode List
Characters
Presentation
See also: Bakemonogatari (anime series)#Presentation
Nekomonogatari Kuro contains a presentation fairly similar to that of the Nisemonogatari Anime, but mostly set the standard for the presentation found in Monogatari Series Second Season with a couple changes to techniques.
Screen Flashes
Screen flashes work and appear similar to before, but have a couple new changes. Besides the following techniques, text quoted from the novel is used a lot more commonly.
Chapter Numbers
The number of each chapter is now flashed on screen before each scene starts. This was kept in all following TV series adaptations.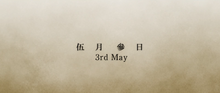 Arc Specific Screen Flash Styles
Some flashes, particularly ones for dates, have a custom white and black style, exclusive for the arc.
Alternate Color Palettes / Intense Lighting Effects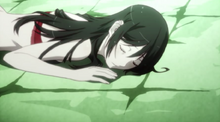 With many scenes taking place at night, intense lighting effects are used quite frequently. While it still seems somewhat related to the lighting, full on alternate color palettes also return after their absence in Nisemonogatari. Characters and their clothes commonly have a pale complexion with muted colors. Hanekawa is sometimes depicted with dark hair and white skin, during a scene that focuses on white, black, and red colors.
Music
Satoru Kosaki once again reprised his role as music producer. The opening theme song for the special was "perfect slumbers", performed by Yui Horie, who voiced Tsubasa Hanekawa. The song "Kieru Daydream", sung by Marina Kawano, was used as the closing theme song.
Trivia
It's notable that all Monogatari installments that have multiple volumes have specific character names for each volume, such as the two volumes of Bakemonogatari being called Jō and Ge. Nekomonogatari is the only instance where the volume character is acknowledged explicitly in the anime series title since it's the only installment that is split between two Seasons and was adapted separately. These volume names are otherwise only subtly represented in some Japanese Blu-ray volumes of the series.
Gallery
External Links
Bakemonogatari

1. Hitagi Crab, Part 1 • 2. Hitagi Crab, Part 2 • 3. Mayoi Snail, Part 1 • 4. Mayoi Snail, Part 2 • 5. Mayoi Snail, Part 3 • 6. Suruga Monkey, Part 1 • 7. Suruga Monkey, Part 2 • 8. Suruga Monkey, Part 3 • 9. Nadeko Snake, Part 1 • 10. Nadeko Snake, Part 2 • 11. Tsubasa Cat, Part 1 • 12. Tsubasa Cat, Part 2 • 13. Tsubasa Cat, Part 3 • 14. Tsubasa Cat, Part 4 • 15. Tsubasa Cat, Part 5

Nisemonogatari

1. Karen Bee, Part 1 • 2. Karen Bee, Part 2 • 3. Karen Bee, Part 3 • 4. Karen Bee, Part 4 • 5. Karen Bee, Part 5 • 6. Karen Bee, Part 6 • 7. Karen Bee, Part 7 • 8. Tsukihi Phoenix, Part 1 • 9. Tsukihi Phoenix, Part 2 • 10. Tsukihi Phoenix, Part 3 • 11. Tsukihi Phoenix, Part 4

Nekomonogatari (Black)

1. Tsubasa Family, Part 1 • 2. Tsubasa Family, Part 2 • 3. Tsubasa Family, Part 3 • 4. Tsubasa Family, Part 4

Monogatari Series Second Season

1. Tsubasa Tiger, Part 1 • 2. Tsubasa Tiger, Part 2 • 3. Tsubasa Tiger, Part 3 • 4. Tsubasa Tiger, Part 4 • 5. Tsubasa Tiger, Part 5 • 6. Summary One • 7. Mayoi Jiangshi, Part 1 • 8. Mayoi Jiangshi, Part 2 • 9. Mayoi Jiangshi, Part 3 • 10. Mayoi Jiangshi, Part 4 • 11. Summary Two • 12. Nadeko Medusa, Part 1 • 13. Nadeko Medusa, Part 2 • 14. Nadeko Medusa, Part 3 • 15. Nadeko Medusa, Part 4 • 16. Summary Three • 17. Shinobu Time, Part 1 • 18. Shinobu Time, Part 2 • 19. Shinobu Time, Part 3 • 20. Shinobu Time, Part 4 • 21. Hitagi End, Part 1 • 22. Hitagi End, Part 2 • 23. Hitagi End, Part 3 • 24. Hitagi End, Part 4 • 25. Hitagi End, Part 5 • 26. Hitagi End, Part 6

Hanamonogatari

1. Suruga Devil, Part 1 • 2. Suruga Devil, Part 2 • 3. Suruga Devil, Part 3 • 4. Suruga Devil, Part 4 • 5. Suruga Devil, Part 5

Tsukimonogatari

1. Yotsugi Doll, Part 1 • 2. Yotsugi Doll, Part 2 • 3. Yotsugi Doll, Part 3 • 4. Yotsugi Doll, Part 4

Owarimonogatari

1. & 2. Ougi Formula • 3. Sodachi Riddle, Part 1 • 4. Sodachi Riddle, Part 2 • 5. Sodachi Lost, Part 1 • 6. Sodachi Lost, Part 2 • 7. Sodachi Lost, Part 3 • 8. Shinobu Mail, Part 1 • 9. Shinobu Mail, Part 2 • 10. Shinobu Mail, Part 3 • 11. Shinobu Mail, Part 4 • 12. Shinobu Mail, Part 5 • 13. Shinobu Mail, Part 6

Koyomimonogatari

1. Koyomi Stone • 2. Koyomi Flower • 3. Koyomi Sand • 4. Koyomi Water • 5. Koyomi Wind • 6. Koyomi Tree • 7. Koyomi Tea • 8. Koyomi Mountain • 9. Koyomi Torus • 10. Koyomi Seed • 11. Koyomi Nothing • 12. Koyomi Dead

Kizumonogatari

Part 1. Tekketsu • Part 2. Nekketsu • Part 3. Reiketsu

Owarimonogatari 2

14. Mayoi Hell, Part 1 • 15. Mayoi Hell, Part 2 • 16. Hitagi Rendezvous, Part 1 • 17. Hitagi Rendezvous, Part 2 • 18. Ougi Dark, Part 1 • 19. Ougi Dark, Part 2 • 20. Ougi Dark, Part 3

Zoku Owarimonogatari

1. Koyomi Reverse, Part 1 • 2. Koyomi Reverse, Part 2 • 3. Koyomi Reverse, Part 3 • 4. Koyomi Reverse, Part 4 • 5. Koyomi Reverse, Part 5 • 6. Koyomi Reverse, Part 6