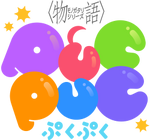 The Monogatari Series Puc Puc (〈物語〉シリーズ ぷくぷく, Monogatari Shiriizu Pukupuku ) is a free-to-play smartphone puzzle game for the iOS and Android operating systems by NHN PlayArt.
It is a single-player game featuring exclusive art from the series and it includes microtransactions. The game is released through the Japanese App Store and Google Play platforms on August 20, 2018. Its main theme song is called wicked prince.
Development
Originally slated for a 2017 release, the game had a pre-registration campaign where users receive more rewards after the game launches if more people pre-register. The rewards include Normal Gacha Medals, Heart Doughnut items, Puku Gem items, and a Hitagi Senjougahara card.[1]
The game's Twitter account kept track of the number of pre-registered users. On August 17, 2017, more than 50,000 people had pre-registered. Three days later it exceeded over 100,000. By the end of August 2017, it has reached 150,000 users. On October 31, 2017, the number surpassed to 200,000.[2] No official statement was given to why the game didn't release at the end of 2017.
On March 24, 2018, the Twitter account previewed the gameplay at AnimeJapan2018 along with the announcement of its opening theme. On the same day another campaign was ongoing where a Shinobu Oshino card will be the prize if more than 300,000 people pre-registered the game.[3] The goal was reached on August 7, 2018 yet the full game was only released near the end of the same month.
Gallery
Illustrations by Shaft
External Links
References
↑ Monogatari Series Game App, Shinobumonogatari Novel's Ad Posted. Anime News Network. August 16, 2017.
↑ Official Twitter. October 31, 2017. (in Japanese).
↑ Official Twitter. March 24, 2018. (in Japanese).
Community content is available under
CC-BY-SA
unless otherwise noted.