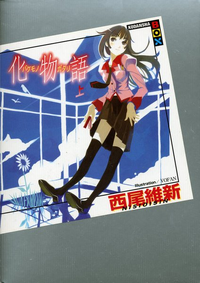 The Bakemonogatari Wiki is a wiki for everything related to Nisio Isin's light novel and anime series Bakemonogatari. It is hosted by Wikia, which runs on MediaWiki software. This format allows visitors to add, remove, or otherwise edit and change the available content. The Bakemonogatari Wiki works as a fan community on the collaborative project of creating in-depth encyclopedic articles.
The wiki's database currently contains 332 encyclopedic articles (which does not include wiki discussions, project pages and redirects).
The Bakemonogatari Wiki was founded on July 28th, 2011 by Jrm.y6bg, who has since left the wiki. The wiki was adopted by Herald of meridian on October 1st, 2011, who currently serves as the wiki's administrator.
Mission
The goal of the Bakemonogatari Wiki and its contributors is to build a database of articles related to the light novel and anime series Bakemonogatari, written by Nisio Isin. Through the research of published works and various media content, the database is meant to serve as a comprehensive source of reference. An accurate account of works cited is provided when possible, and we aim to see that all information in verifiable. Feel free to contribute to our site and help us complete our goal to build the most informative online resource for everything related to the Bakemonogatari series. If you're a long time fan or just wandered over, take a look inside and see what you can do! Here we're dedicated to creating a site that both fans and casual visitors can enjoy.
See Also
Community content is available under
CC-BY-SA
unless otherwise noted.