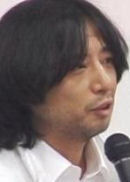 Akiyuki Shinbo (新房 昭之 Shinbō Akiyuki) born September 27, 1961 in Fukushima, Japan, is a Japanese animator, director and producer known for his use of many unorthodox directorial techniques and presentation. Ever since 2004, he has been known to many as the face of modern Studio Shaft, and has been credited as "director" in most of the studio's works since then.
Despite being credited as a "director" in most Shaft works, essential direction of individual series is commonly not done by him but rather his students, such as Tomoyuki Itamura, that have adapted his unique techniques into their own experimental styles. Because of this, he's commonly given the title of "chief director" instead.
Besides this title, Shinbo has been credited for handling other things in various Monogatari Series adaptations, such as "Series Composition" and "Animation Check".
History
Shinbo started his career as a key animator in 1981 at Studio One Pattern. He first got put on the map as a director after directing multiple episodes of Yu Yu Hakusho which featured the first of his many iconic techniques. He made his series director debut with Metal Fighter Miku in 1994. After working as a freelance director for years through out the 90's, he joined Shaft in 2004 when it was looking for a new chief director to revitalize it after the previous had retired. Since then, he has retained the role and has acted as mentor for the rest of the staff. Despite this, many directors under his wing still influence each other and have their own distinct directorial styles.[1]
Iconic Techniques and Themes (Shinboisms)
Bolded are those featured in the anime adaptations of Monogatari Series at some point.
See also: Bakemonogatari (anime series)#Presentation
Intense, dark shading and light effects
Bold, monochromatic colors and changes of color palettes
Eyeball fixation and zooms
X-ray shots
Inventive transitions
Changes in aspect ratio, including use of cinematic ratios, small box ratios with screen space, and foreground objects shaping the ratio
Fish-eye perspective shots of characters speaking into the camera
Gothic and gritty aesthetic, including stained window glass, candles, chains, statues, skulls, and crucifixion imagery
A person's face reflected on multiple surfaces
Bloody tears
Characters hanging suspended in mid-air
Ornate bathing scenes
Distinct, detailed, and architecturally experimental locations.
Wide-shots that are repeatedly cut back to after brief character face close ups
Bird's eye views of skirt spins
Detailed, realistic, casual outfits
References
Community content is available under
CC-BY-SA
unless otherwise noted.